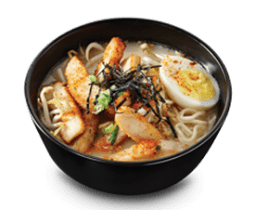 Ramen Soup
Ramen Soup

Tonkotsu
Description
Japanese-inspired Ramen soups by Sushi Shop with 2 unique broths options. You can even double your protein for an even more filling meal. A true Japanese specialty with flavours of pork, miso and a hint of garlic. This rich and smooth soup is a must-try!
Portions
Choice of protein:
- Grilled chicken
- Seafood (salmon, shrimp, kanikama)
- Shrimp tempura
Option:
-Spicy
Extras: Double your protein!
- Egg (1/2)
- Chicken
- Seafood
- Shrimp Tempura
Ingredients
served with fresh Ramen noodles, egg (1/2), green onion, bean sprouts, nori, Japanese spices and your choice of protein.