Sushi Shop and Bubble Tea Shop are proud to be associated with the Quebec Breast Cancer Foundation.
To support women affected by the disease, our collaboration displays its pink colors with a NEW Green Tea with cranberry juice and basil seed. For each tea sold, $1 will be donated to the foundation.
In order to meet the mission's objectives, we have carefully selected ingredients that highlight the flavours and nutritional benefits of the tea.
Green Tea with Cranberry Juice and Basil Seed features the fruity, sweet and tart flavors of the cranberry with the delicate floral and refreshing taste of green tea. Similar in texture to chia seeds but with a slight peppermint flavor, basil seeds are the missing complexity that completes the beverage.
If you are sensitive to the cause and want to discover its flavors, refresh yourself by ordering it in our participating stores.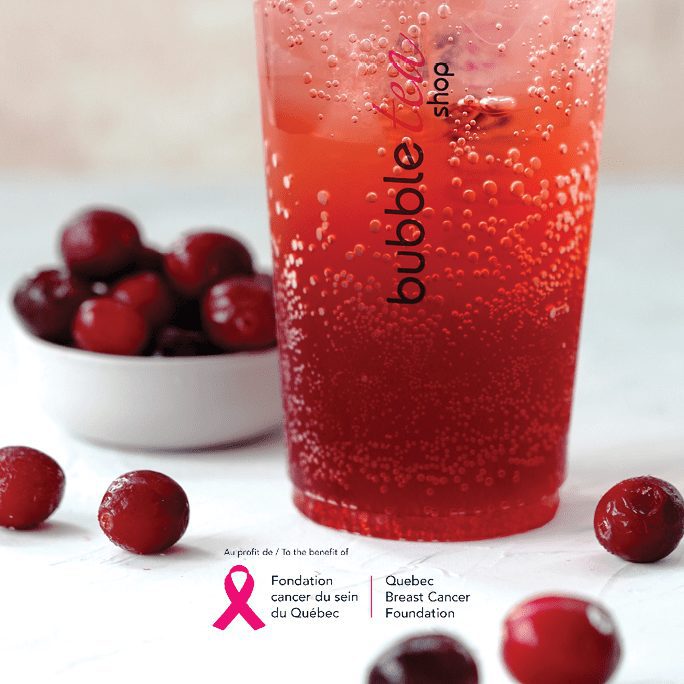 Quebec Breast Cancer Foundation
Breast cancer is the most common cancer among women in Canada and the 2nd leading cause of cancer death among Canadian women. In Quebec, each year, an estimated 6,000 women will be diagnosed with breast cancer and 1,350 will die from it.
The Quebec Breast Cancer Foundation's mission is to improve the survival rate and quality of life of those affected by breast cancer, and to raise awareness among all communities and groups of people concerned, now "Allies for Breast Health".
Karine-Iseult Ippersiel
President and Chief Executive Officer
To learn more about the Quebec Breast Cancer Foundation, visit their website.