SUSHI FOR THE FAMILY & COMBO FOR 2
The red and orange leaves have given way to a beautiful colorful carpet which now covers almost your entire front yard. Wrapped in your warmest jacket and accompanied by your favorite scarf and mittens, you can now feel the cold wind on you now red nose during your daily walks. There is only a month left before the beautiful white snowflakes arrives. In pursue of warmth and comfort, we have decided to create two new offers that will satisfy family and friends.
The first offer, The Family Platter (50 pcs) which includes: Cherry blossom 8 pcs, Orange velvet 5 pcs, Volcano 5 pcs, Red eye 5 pcs, Spicy shrimp 5 pcs, Kamikaze salmon 5 pcs, 911 4 pcs, Vancouver 4 pcs, Kappa Philly 3 pcs, Syake 3 pcs and Avocado 3 pcs.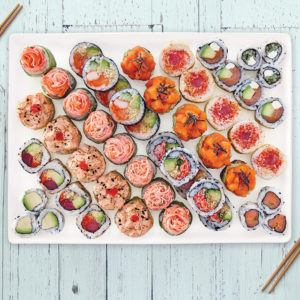 The second offer is our new Combo for 2 (26 pcs) which includes: Mini Volcano 4 pcs, Teriyaki Bombs 2 pcs, Sumomaki (chef's choice) 10 pcs, Cali Classic Maki 4 pcs, Twin Salmon Maki 4 pcs, Nigiri Syake 2 pcs.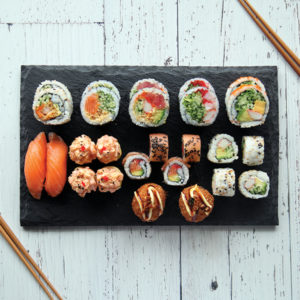 So, whether you want to spoil yourself a little, or just have a good time your loved one or you're your family, without spending hours in your kitchen, our two new offers will be available throughout November in stores, on our take-out app. and on our delivery platforms.
We promise you for the Holidays a new and exciting offer. For more information, follow us on our social media: Facebook and Instagram
To discover all our creations, consult our online menu.
We also have a brand new Frequently Asked Questions section on our website, which we hope, will answer many of your questions.