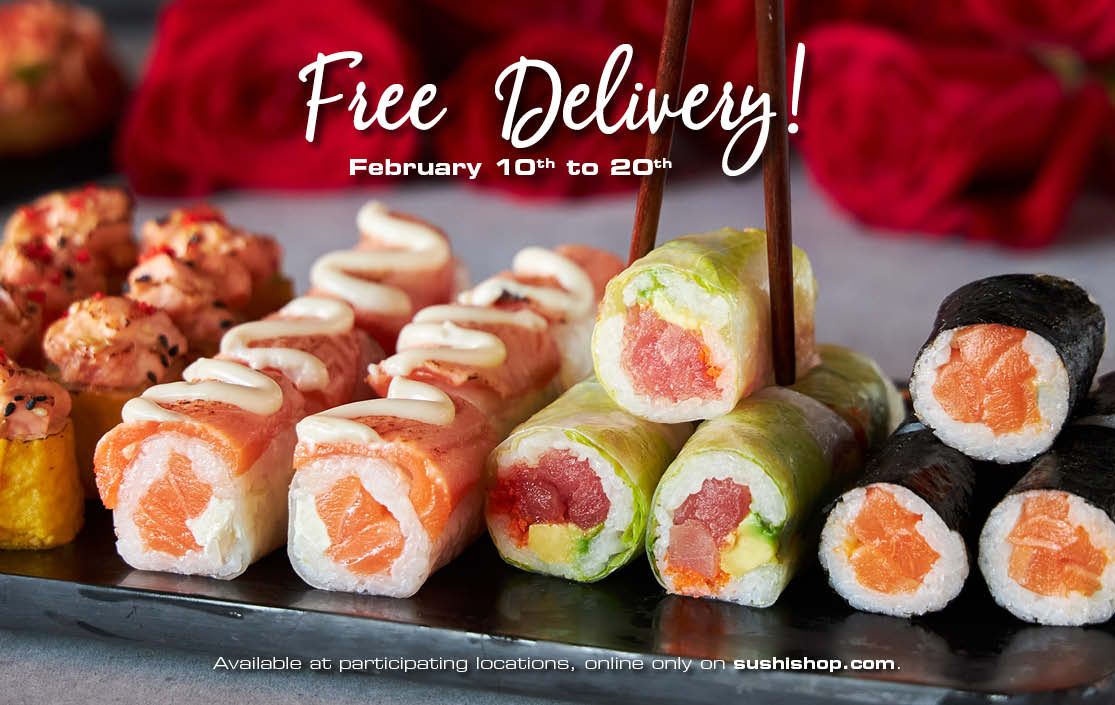 JUST IN TIME FOR VALENTINE'S DAY! 
From February 10th to 20th, enjoy FREE DELIVERY when ordering through our Sushi Shop website. 
Offer for a limited time only and available at participating locations.
♥♥♥♥
LET'S SHARE THE LOVE ♥
Call us hopeless romantic or simply passionate about life, but we love this time of year!
We are finally seeing a little brightness in what can seem like the longest month of the year. With daylight increasing towards Spring and Easter, our energy is being recharged and we are ready to mingle 😉
We are sending tons of positive energy and love your way, with our Free Delivery promotion, from February 10th to 20th.
♥♥♥♥
Discover our new Valentine's Day menu. 28 pieces to share with appetizers: 8 Mini Volcano, 2 Mini Sushi Pizza Authentik, 6 Hosomaki Spicy Salmon Nori Sheet, 6 Hosomaki Tuna, Avocado and Masago Rice Sheet, 6 Hosomaki Double Seared Salmon Rice Sheet, 2 Small Miso Soups and 2 Imperial Rolls. 
New! Double Seared Salmon Hosomaki:

A fusion duo in which the distinctive tastes of the two salmons complement one another rather than add to one another: torch-seared and fresh salmon. No more, no less, find this salmon duo in all its splendour and flavour in this new must-have.

New! Spicy Salmon Hosomaki:

Rekindle the flame and spice up your party as our delicious spicy sauces and mayo, with a hint of spice, harmoniously complement the freshness of the salmon.

New! Tuna, Avocado and Masago Hosomaki:

To each his own! Love it or hate it, the featured tuna blends perfectly with the flavours of its companion. You'll find the same creamy texture as the salmon but with a slightly saltier taste that is similar to that of meat.

Mini Sushi Pizza Authentik:

Flirt with gourmet pleasure! The idyllic touch of this fresh platter: Our mini Sushi pizza. A perfect fusion between the pizza with a crispy rice cake and the sushi where the smoked salmon perfectly matches the soft, crispy and creamy side of the cake, resulting in decadent bites.

Mini Volcano Blossom:

A favorite of our consumers and by definition, a strong attraction to these exquisite bites. You'll be ecstatic with this combination of torched salmon, avocado and tempura that will leave a lasting impression on anyone who tastes it.