The most festive time of the year is now upon us, and the holiday season wouldn't be complete without a little special, a little extra that feels good. That's why this year, we're pampering our fans with 2 different platters with distinct characters and flavors.
Whether your meals are to share with 4 or 30 people, we can assure you that with Sushi Shop, your gatherings will always be gourmet, festive and (very) tasty. Discover our holiday creations that will fit any type of menu and gathering. This year, make it extra special!
FOR YOUR CLASSIC AND COZY CELEBRATIONS
CELEBRATION PLATTER
A gourmet choice, both refined and simple, our Celebration tray is the centerpiece you absolutely need this festive season.
A gathering place for many, to please all palates and diets. Don't fret! We have not left our creativity aside, as each piece offers a union of our most popular flavors, for these bites are as comforting as they are satisfying:
Tuna, avocado and masago
Cucumber & Cream Cheese — perfect for vegetarians!
Salmon, Avocado and Masago
Karaage Chicken and avocado – the kids will be coming back for more!
Spicy Tuna
Because a Christmas tree isn't complete without its star, we made our Cherry Blossom the shining star in this tray. It's one of 10 creations from our Blossom collection that are ever so popular for their contrasting internal and external flavors. Enjoy the indulgence of tempura, cream cheese and spicy light mayo on the inside, and the freshness of shrimp, kanikama and red masago on the top.
Hearty enough to fill your holiday dinners, but also light enough to accompany your brunches, our Celebration Platter is the elegant touch your need for your holiday menu.
Kindly note that most of our sushi is wrapped in rice paper, so that its subtle taste is suitable for any time of the day, to satisfy all palates.
Celebration Platter: 8 Cherry Blossom, 48 Hosomaki Deluxe. 56 pcs. $68.95 (restaurant and pick-up) / $79.29 (delivery)
To add it to your table, order from your local Sushi Shop restaurant.
FOR YOUR CHIC AND REFINED CELEBRATIONS 
HAPPY HOUR PLATTER
To celebrate the last strikes on the clock in 2021, our Sushi is getting all dressed up! So put on your best sequin outfit and bow ties, because the chic flavors of our Happy Hour platter will be worthy of your last moments of this year. Its bites remain light, so you can indulge in more than one piece and experience the multiple flavors of this platter.
For lovers of fresh fish and refined flavours, these 56 small bites are sure to please. You'll find our most popular seafood items combined with complementary ingredients: smoked salmon and cream cheese, salmon, tilapia and spicy tuna, seared salmon and Japanese mayo, tuna and masago.
We did allow ourselves a little extra: with its seared tuna and truffled mayo, elevating its preparation and its lovely black masago dressing, our Tokyo Maki will give you the restaurant experience in the comfort of your own home. Simply put, our Happy Hour Platter is both chic and gourmet!
Happy Hour Platter: 8 Tokyo Maki, 42 Deluxe Hosomaki, 8 Nigiri. 58 pcs. $65 (restaurant and pick-up) / $74.75 (delivery)
For your chic and refined celebrations, order our Happy Hour Platter!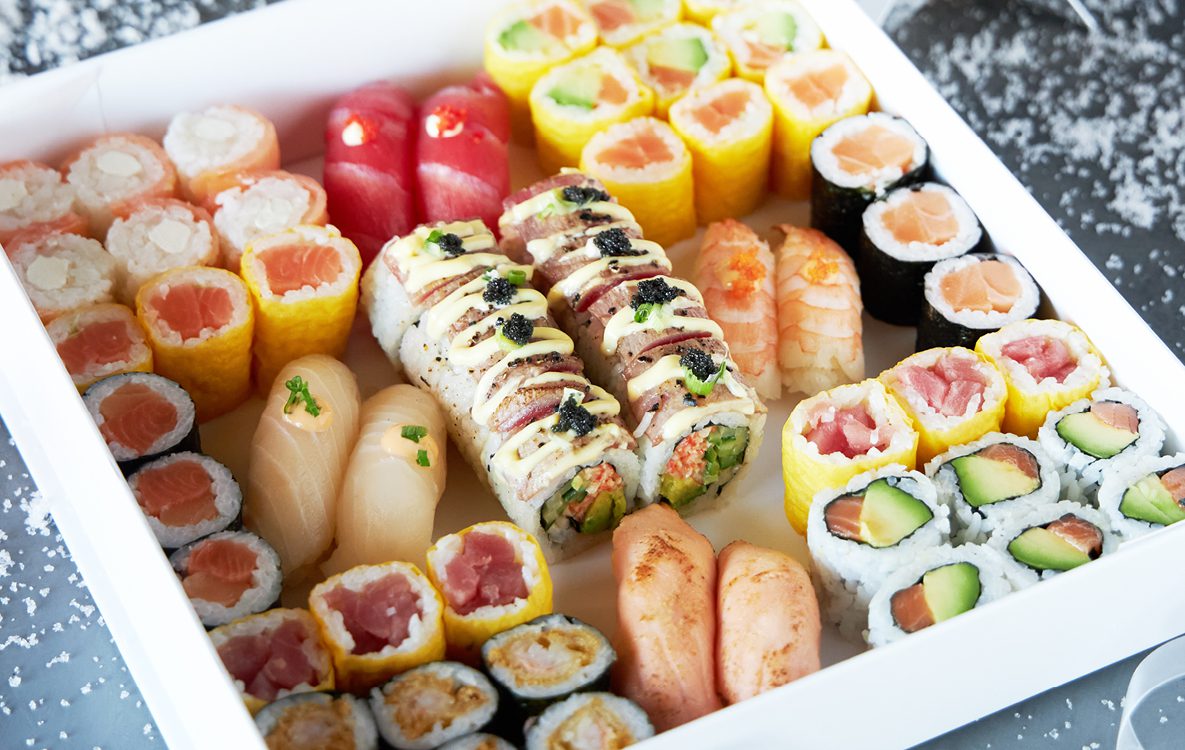 TEAS THE SEASON!
Finally, this year we can proudly add a sweet touch to our menu! Say "Cheers" to the holidays with our Bubble Tea collections.
Our fruit juice teas will surely put you in a festive mood. Choose from a variety of flavors to accompany any meal and offer a mix of flavors that all your guests will absolutely love. If children love them, our teas can also be a great alternative for those who prefer not to consume alcohol.
Our gourmet milk teas, whether with their caffeine content, or sweet aroma, will keep you awake during your dinner marathons or will be the perfect complement to your festive lunches.
Available in our participating restaurants, look out for our Bubble Tea logo and add them to your order!
GIFT CARDS
The most beautiful gifts are those which can be shared. For food lovers, your loved ones to whom you want to share your favorite sushi with, your friends who enjoy gourmet dinners, for busy parents or for a colleague you appreciate … Sushi Shop gift cards are always a treat!
To get your physical or digital Sushi Shop gift card, visit our website.
Happy Holiday Season from the Sushi Shop Team!