Today, we want to celebrate the joys of take-out orders, for weekly treats and in complete safety. All occasions are good to have fun whether it is for a romantic evening cuddled up in front of a good movie, or for some quality time by yourself. Our sushi creations are always pushed to the limits by our chefs to brighten all your special moments.
Having fun has never been so central to our lives, so what better way to it, then with indulgence! So here are a few gourmet ideas that will certainly warm your heart.
Order for your family moments
If you have a night planned with your family staying over the next few days, we've got something to impress them … by simply ordering sushi for take-out!
To start with, add a few bombs to your order, like the Teriyaki Bomb that is made with distinctive ingredients, inside and out, giving each one its own unique character. Made with sesame, Japanese spices, crabs, shrimps and mozzarella, they will be a fun option to try.
Then, continue with our Crispy Lobster Bombs. With an interior made from lobster, shrimp, crabs, green onions and mangoes, a perfect equilibrium between salty and fruity flavors. Success guaranteed!
If you have pizza lovers in your family, offer them our Sushi Pizza L'authentik. With its crispy rice and cheese rice crust, topped with smoked salmon, kanikama, orange and red masago, we are certain this pizza won't be on the table for very long.
And for those that like to indulge or are simply capable of eating a lot of sushi (we won't judge), it is without a doubt that our 60 pieces sushi platter will make you very happy.
Ordering for some extra pampering
As the evenings get longer and darker, we recommend some extra time, just for you, to enjoy and pamper yourself during these longer months ahead. Grab your favorite blanket and curl under it, apply a facial mask for that extra glow we are all looking for and dig in one of our delicious Poke bowls. Now that's comforting !
Our famous Poke Bowls have everything you need, from fresh ingredients, to savory proteins and healthy options that pairs perfectly with all staycations. We suggest our Chicken Mango Poke Bowl, for its refreshing ingredients like the mango, avocado, and cucumbers and for for its delicious Teriyaki and Ponzu sauces.  This is a meal we hope you will enjoy as much as we do.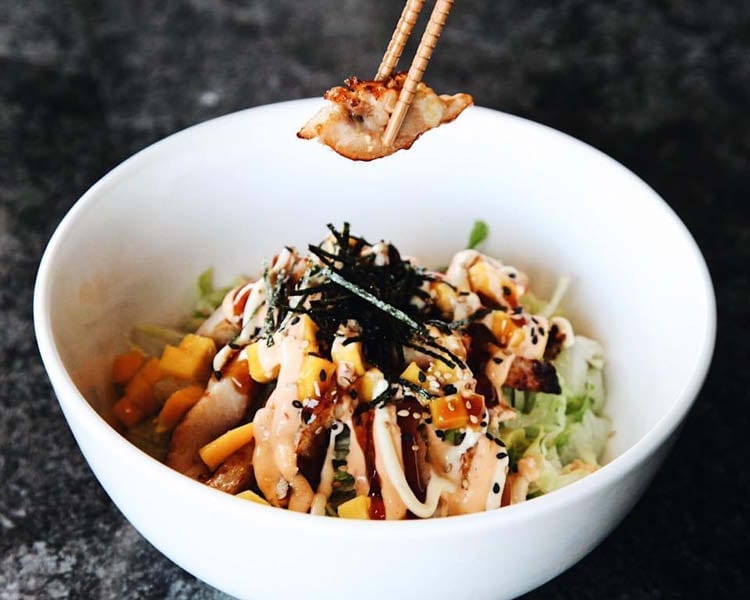 In the mood for some vegetarian options ? Order online!
For vegetarians or those who want to have a little "veggie", detox day… We also have something to satisfy you!
You can always add to your order our Vegetarian Sumomaki, which offers simple ingredients with powerful flavors. Between the avocado (one of the best antioxidants), oshinko, crispy sweet potato, cucumbers, carrot and red peppers, you will certainly be pleased by its range of textures and flavors.