You have probably seen them proudly displayed on our menus! In recent years, Poke Bowls have become an essential element of Asian cuisine, as well as healthy cuisine. So at Sushi Shop, we have brought you a variety of explosions of flavour that use several core sushi ingredients but are styled more like a salad.
Perhaps you are wondering where these delicacies came from, or how they became so popular? What are their nutritional benefits? We have it all covered, keep on reading! We explain everything below.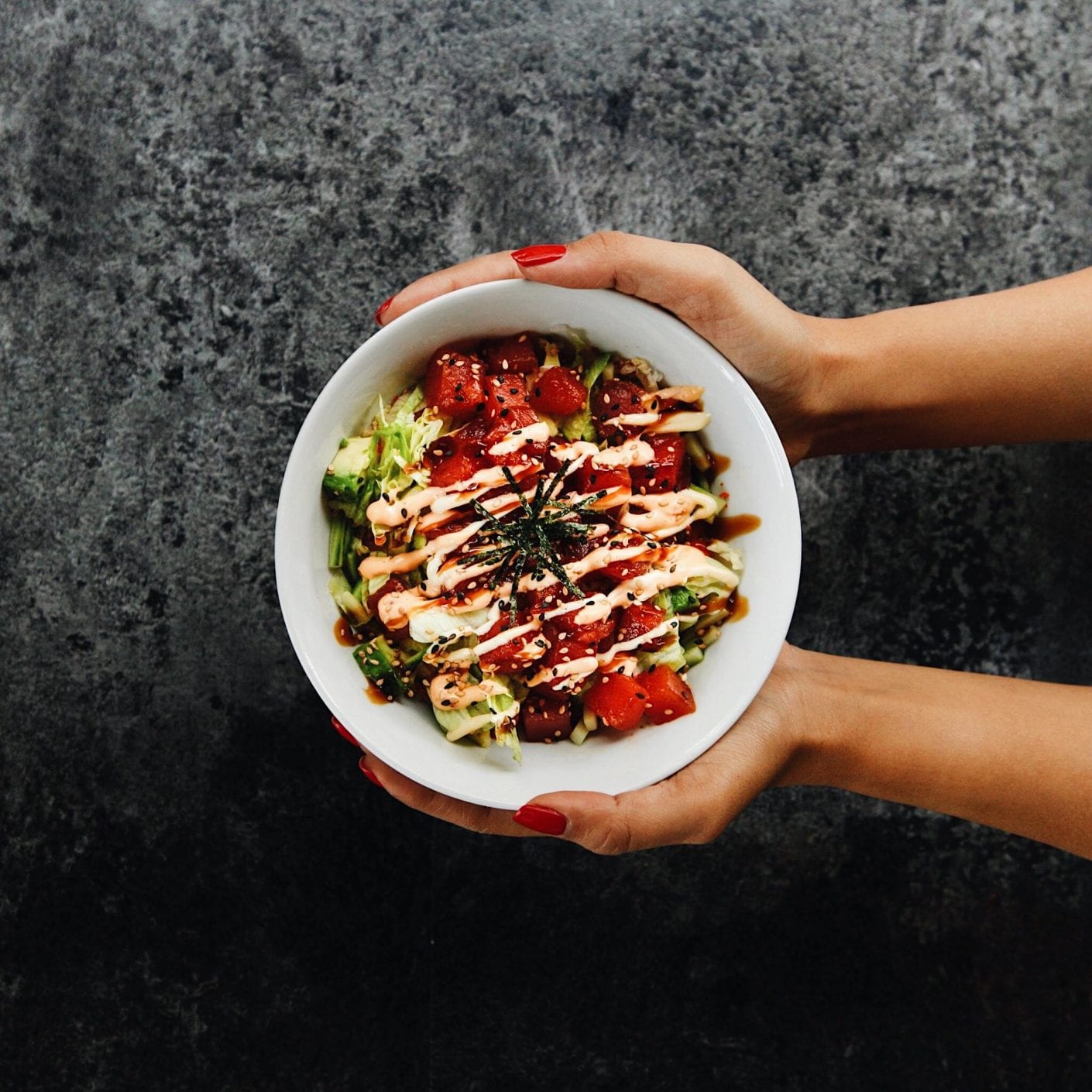 The Hawaiian origins of the Poke Bowl
Originating from Hawaii, before being introduced to the United States and then around the world. The Poke Bowl is a traditional dish that comes in a wide range of possibilities. Made from fresh ingredients that can easily be found around the island, the Poke Bowl was translated at the time as "diced fish salad". This expression was created due to the composition of the Poke Bowl where all the elements were cut into squares giving the impression of dice.
In the original recipe, you will find slices of avocado, mangoes, raw red tuna marinated in soy sauce, seaweed, cashews or macadamia nuts, and sliced onions. All this, enhanced with ginger, served on a bed of rice in a bowl, of course!
You will quickly understand that soy sauce was THE original dressing for a Poke Bowl, which compliments nicely most ingredients. But at Sushi Shop, we have a few variations that will make your mouth water! Find out more below.
A simple, colourful, and fresh recipe using the riches of its island that will keep one energized no matter what activity! What more could you want from a nutritious and delicious meal?
The perfect balance
You have probably seen Poke Bowls all over social media. The bowl itself is a way of serving that is increasingly popular: more practical, more aesthetically pleasing and more unique than the traditional plate. With all its colourful ingredients, the Poke Bowl is a real gold mine. Composed of excellent nutrients, it represents a perfectly balanced supply of protein, carbohydrates and fats.
Each ingredient has been carefully thought out for maximum nutrition:
Raw fish, like salmon found in most of our bowls, and avocado is an excellent source of Omega 3 and healthy fats,
Seaweed and exotic fruits are filled with fibre, vitamins and minerals,
Nuts are also full of vitamins and help lower cholesterol,
Rice provides you with energy,
And lastly, the fish and seaweed together will provide you with all the protein you need.
Under its appearance of a simple diced salad, not only does the Poke Bowl revive the taste buds, but above all, it allows you to eat healthily with a perfectly balanced meal.
Poke Bowls at Sushi Shop
At Sushi Shop, we offer thirteen different variations of the Poke Bowl, for satisfaction regardless of your preferences! By bringing our finest Japanese flavours, our Poke Bowls take on their full meaning. Salmon, avocado, cucumber, seaweed, sesame seeds, all on a bed of rice, drizzled with ponzu sauce, your taste buds will be craving more!
Even though all of our bowls are tastier than the next, we wanted to highlight three of our personal favourites!
The Umami Poke Bowl: Beautifully presented as a tartare and composed deliciously of salmon, avocado, cucumber, orange masago, you just have to choose your favourite base like white rice, brown rice, our unique Crispy sticky rice or a crunchy bed of lettuce. To balance the flavours, we have swapped the traditional soy sauce for a clever mix of sesame sauce, ponzu sauce, poke sauce, Japanese mayo, and teriyaki sauce. A true delight!
The Veggie Poke Bowl: This balanced meal is made with avocado, edamame beans, cucumber, lettuce, red pepper and crispy sweet potato. All topped with a mixture of sauces designed specifically for this Poke Bowl: Ponzu sauce, sesame, teriyaki, Japanese spices, spicy and Japanese light mayo. Vegetarian deliciousness!
Lastly, the Lobster and Shrimp Poke Bowl for the shellfish lovers! Prepared with lobster, shrimp, cilantro, lemon, tempura, avocado and orange masago, it's a real treat. Find our famous ponzu and teriyaki sauce, spicy and Japanese light mayo, and topped with Japanese spices. The perfect mix!
Please note that at Sushi Shop we write "Poke" without an accent, "Poké", but be careful! The pronunciation reminds the same, "PokaÏ".
Curious to see how our Poke Bowls are prepared? Click here to see!
Did we make your mouth water? Place an order online now, or visit us in-store to satisfy your craving!