Hanami, a tradition that comes alive after a long winter, is all about savouring the beauty of the flowers that bloom in Japan. In the Land of the Rising Sun, the cherry blossom (also called sakura or blossom) is the object of all eyes from March to mid-April. For many, it is a must-see when visiting Japan, an indisputable spectacle whose natural theatres fill the parks and extend over the whole country following the progression of the season. The blossom is therefore an integral part of Japanese traditions, which is why Sushi Shop pays tribute through its gastronomy. With spring blooming in a few weeks, through this article we wanted to give you a little ray of sunshine, which is sure to brighten your day!
The rising sun
The Japanese cherry tree is a tree that flowers very early and marks the arrival of spring. Often a season eagerly awaited for its benefits, luminosity, warmth, it brings the relief of the holiday season arriving in a few months. To fully benefit from this beautiful panorama, many do not hesitate to settle in neighbouring parks, where they will often take the opportunity to share beautiful moments through picnics and birthday parties. Some people prefer to meditate, or simply admire the spectacle thanks to the light shows that have been specially designed for the Hanami season.
This season draws its traditions from a much deeper philosophy. It was in fact during the Heian period (794-1185) that this custom, established within the aristocracy, was inherited from a philosophical and historical movement called Mono No Aware. Meaning "the pathos of things", this movement invites one to marvel at the present moment. Lasting two weeks, Blossom flowers are the perfect allegory of the cycle of life. They are born, live, and wither in the image of man.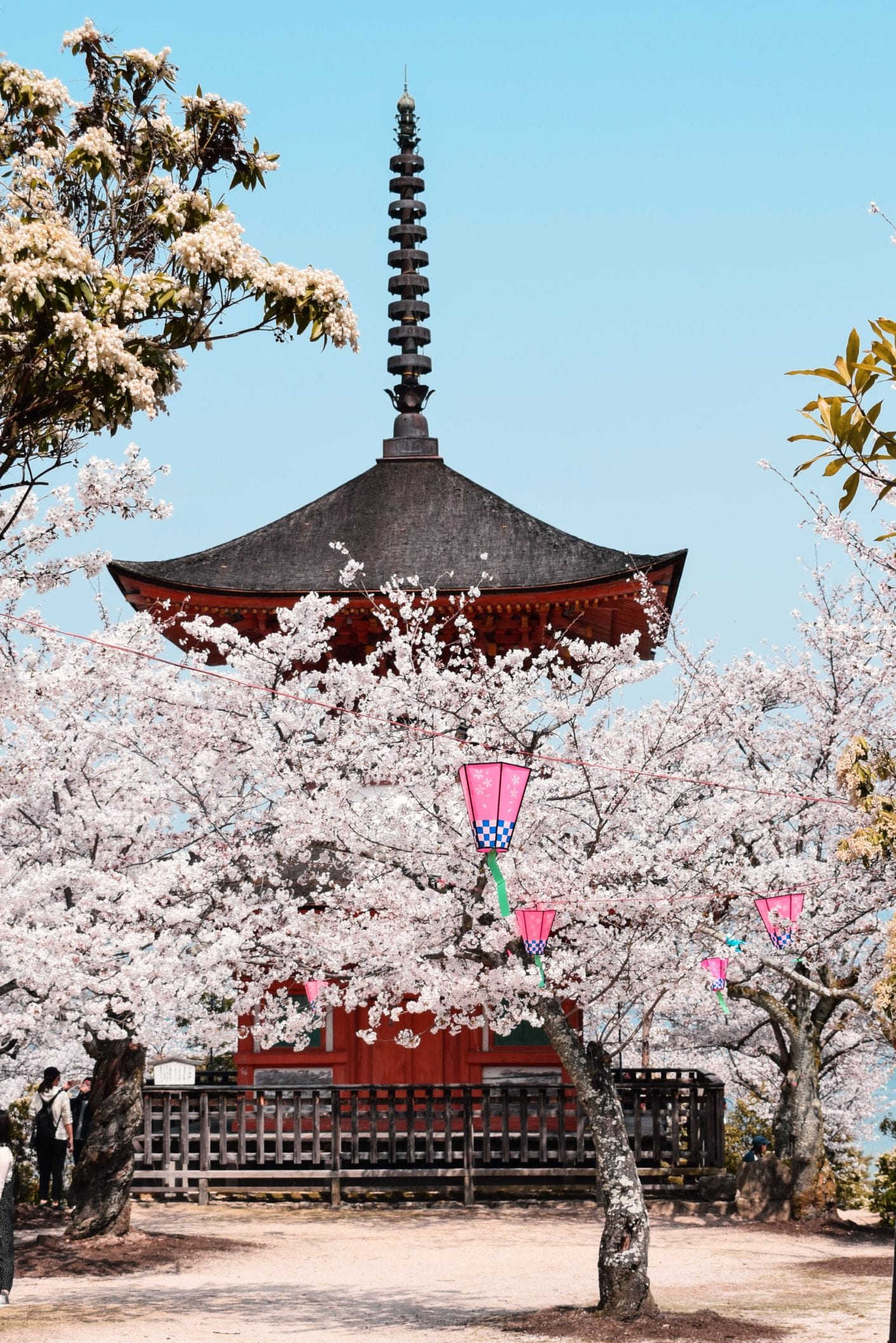 It is then that the Hanami which reminds us of the benefits of introspection, that it is important to ask questions, for example, about the meaning of our existence, or the choices we make and how to improve them. Although Hanami is a perfect time to take stock, the Blossom flower also invites us to look to the future: the messenger of a spring that is coming, bringing with it new projects on the horizon. This flower symbolizes renewal and hope for a better future if we know how to ask ourselves the right questions…
Also coinciding with the rice planting season, a true pillar of the Japanese diet, this period resonated as being very important for the peasants, who associated with its fertility, nutrients, and wealth; essential to an entire country. To ensure that the country does not die of hunger, many Japanese from the 8th century onwards placed offerings at the feet of cherry trees, drank sake, praying that the harvests would be abundant. It is in the 9th century, that the imperial court of Kyoto, added refined dishes to it, (who knows perhaps sushi 😉 ), transforming this moment into a real picnic. Feasts embellished with the reading of poems, worldly exchanges, thus laying the foundations of what we know today.
 The Blossoms at Sushi Shop
With spring coming in a few weeks, we couldn't resist bringing you this little botanical and sunny touch, in homage to the cherry blossom season which is approaching. Inviting you, possibly to channel good news, renewal, to set up new projects and to please yourself by offering you on this occasion, a 100% Blossom dinner, to be closer to the Japanese tradition!
You can now enjoy 11 Blossom sushi at Sushi Shop, including 3 new arrivals since we also love novelty! Each Blossom Roll offers ingredients inside and on top for a delight that is sure to charm you until the very last bite.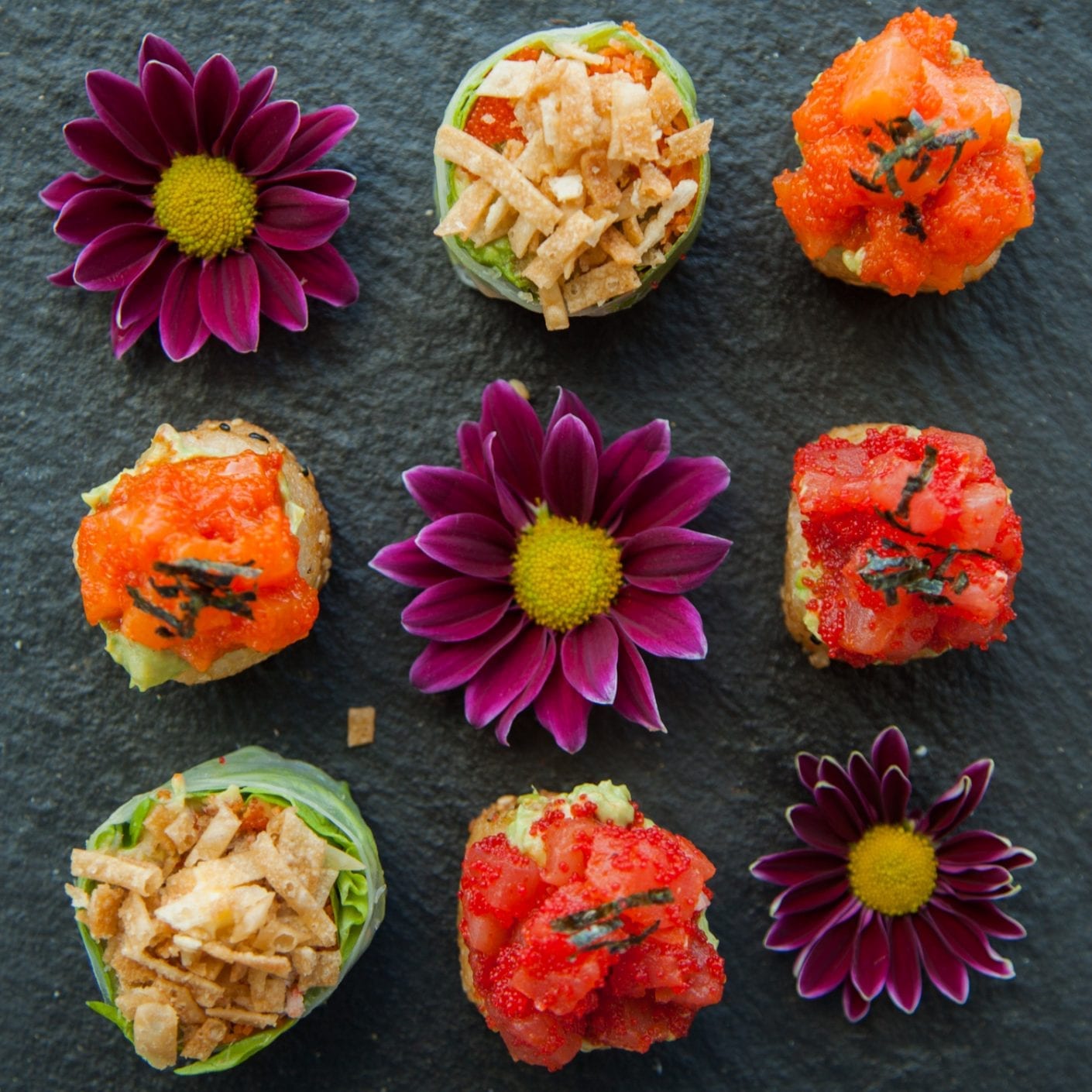 We recommend beginning with a touch of freshness to stimulate your taste buds with our Cherry Blossom, inspired by the beautiful flower of Japan. Made with shrimp, kanikama, red masago, light cream cheese and lettuce, it will set the tone for this special moment!
Then let yourself be carried away by our Blossom Truffled Salmon: made with salmon, shrimp, cucumber, truffle oil, mesclun salad, and tempura. Perfect for celebrating new beginnings with elegance.
To finish, try our new Blossom Kampai, high in protein to ensure an energetic day! This novelty lets you choose your protein to accompany it with a delicious blend of wonton, avocado, cilantro, carrot, grilled garlic, green onion, lettuce, orange masago chips, all in a roll like no other!